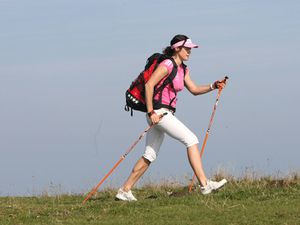 The work demonstrated its endurance cardiovascular efficiency When a march continues and just hiking, it provides cardiovascular and significant interest
WHY 1h 30mn THREE TIMES A WEEK
1 - 1 hour 30 minutes : this is the minimum time for the appearance of the beneficial effects of a so-called endurance activity
2 - 3x per week: To access a weekly mini, to prevent clogging of the arteries of the heart
3 - An excellent compromise recovery training
Again it is the volume of business done in the year account for your well-being
This way to train or do the exercise is aimed at people:
1 - Women on the return of large and resuming physical activity smoothly without too many constraints
2 - For women who are overweight , and for joint or other reasons can not run
3 - For people of a certain age and his frail articulairement
4 - Finally, for a whole range of people who desire an activity at lower cost
I give you the means to do it for free by clicking on the link below
 RECOVERY OF SPORTING
1 GOAL WEIGHT LOSS IN MARCHAND
In this particular case my plan will be made ​​beyond 50 minutes walking because it is that it taps into fat. It can be alternated running or brisk walking or Nordic to work correctly with two training sessions per week over a six-month weight loss is done correctly , but also you will get your heart rate will be long-term changes including the resting HR
Training beginners : but I can not run
Program is aimed at people who do not run or do cardio wanting ultimate objective is to come . to make an effort over forty minutes, without any problems before proceeding to the next step of this program over several weeks has been tested it has weight loss and a change in the frequency of rest ATTENTION explanations on walking technique on stretching, the cladding , and educational race for those who can
 Warning: this type of program requires a certain rigor.
1 - See a doctor and request a stress test because by lasuite you will make greater efforts
2 - To fit properly with suitable shoes weight , be careful not to take too costly shoes
3 - For safety take a cardio with 30 euros you have a most simple sufficient
3 - Good food hygiene :
a good breakfast with plain yogurt fruit , slice of bread, coffee , or tea
if a small hollow or 15h 10h an apple or orange
Not a proper breakfast sauces : a single dish yogurt fruit or fruit salad
Diner soup or a light meal or a yogurt fruit compote
ESPECIALLY NOT SPEED CAR TOO MANY DISASTERS
To work with your cardio I remind you of the principle you made ​​220 ​​- age you a max frequency of security then I take my rest frequency I give you an example
I'm 60 yars and I have a resting rate of 50
1 I calculate my rate reserve 220-60 = 160
2 I wish to work 50 % of my FCM I 160 * 0.5 = 80
3 I add my resting rate 50 + 80 = 130
Monday
food :a good breakfast with plain yogurt fruit , slice of bread, coffee , or tea
if a small hollow or 15h 10h an apple or orange
Not a proper breakfast sauces : a single dish yogurt fruit or fruit salad
Diner soup or a light meal or a yogurt fruit compote
YEAR
2x 15 minutes walking at a good pace between each stretch 15mn
Tuesday
food :
a good breakfast with plain yogurt fruit , slice of bread, coffee , or tea
if a small hollow or 15h 10h an apple or orange
Not a proper breakfast sauces : white meat with rice or leg without sauce yogurt fruit or fruit salad
Dinner Salad yogurt or a fruit compote
YEAR
REST
Wednesday
Food : good breakfast with fruit yoghurt , slice of bread, coffee , or tea
if a small hollow or 15h 10h an apple or orange
Not a proper breakfast sauces : white meat or fish or vegetables without sauce lenses yogurt fruit or fruit salad
Dinner Salad yogurt or a fruit compote
YEAR
45min walk and stretch stretching +
Thursday
food :a good breakfast with plain yogurt fruit , slice of bread, coffee , or tea
if a small hollow or 15h 10h an apple or orange
Not a proper breakfast sauces : white meat with rice or leg without sauce yogurt fruit or fruit salad
Dinner Salad yogurt or a fruit compote
YEAR
REST
Friday
food :a good breakfast with plain yogurt fruit , slice of bread, coffee , or tea
if a small hollow or 15h 10h an apple or orange
Not a proper breakfast sauces : white meat with rice or leg without sauce yogurt fruit or fruit salad
Dinner Salad yogurt or a fruit compote
YEAR
45 minutes walking briskly + stretching or pool make length and enjoy the water to sheathe
Saturday
Food : good breakfast with fruit yoghurt , slice of bread, coffee , or tea if peckish at 10am 15h or an apple or orange
Not a proper breakfast sauces : white meat with rice or leg without sauce yogurt fruit or fruit salad
Diner soup yogurt or a fruit compote
YEAR
REST
Sunday
food :a good breakfast with plain yogurt fruit , slice of bread, coffee , or tea
if a small hollow or 15h 10h an apple or orange
Not a proper breakfast sauces : I loosen SOME yogurt fruit or fruit salad
Dinner Salad yogurt or a fruit compote
YEAR
Workout with family or doing stretching and gainge
You repeat on the other weeks and tell me the results
The next section will address for those traveling on wheels happen to run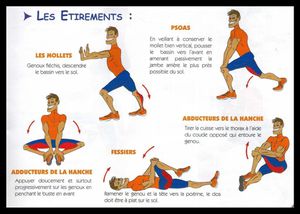 WEEK 2
SESSION 1
15mn walk 10 min walk faster + cool + 10mn walk stretching
SESSION 2
15mn walk 10 min walk faster + cool + 10mn walk stretching
SESSION 3
Market 40mn + stretching
WEEK 3
SESSION 1
15mn walk 15 min walk faster + cool + 10mn walk stretching
SESSION 2
15mn walk 15 min walk faster + cool + 10mn walk stretching
SESSION 3
50min walk + stretching
WEEK 4
SESSION 1
Walk 20 minutes 10 minutes 10 minutes walk faster + cool + walk stretching
SESSION 2
Walk 20 minutes 10 minutes 10 minutes walk faster + cool + walk stretching
SESSION 3
50min walk + stretching
WEEK 5
SESSION 1
Walk 20 minutes 15 minutes 10 minutes walk faster + cool + walk stretching
SESSION 2 Walk 20 minutes 15 minutes 10 minutes walk faster + walking + stretching cool
SESSION 3 March 55mn + stretching
WEEK 6
SESSION 1
Walk 20 minutes 20 minutes 10 minutes walk faster + cool + walk stretching
SESSION 2 Walk 20 minutes 20 minutes 10 minutes walk faster + walking + stretching cool
SESSION 3 March 55mn + stretching
WEEK 7
SESSION 1
10 minutes walking warm 20 minutes at a good pace stretching
SESSION 2 Walk 30 minutes 15 minutes 10 minutes brisk walking + walking + stretching recovery
SESSION 3 55mn walking briskly + stretching
WEEK 8
SESSION 1
10 minutes walking warm 20 minutes at a good pace stretching
SESSION 2
Walk 30 minutes 15 minutes 10 minutes brisk walking + walking + stretching S recovery
SESSION 3 + stretching 55mn 
WEEK 9
SESSION 1
25mn walk 15 min walk faster 20mn walk + cool + stretching
SESSION 2
25mn walk 15 min walk faster 20mn walk + cool + stretching
SESSION 3
Walking 1H + stretching
Pour être informé des derniers articles, inscrivez vous :